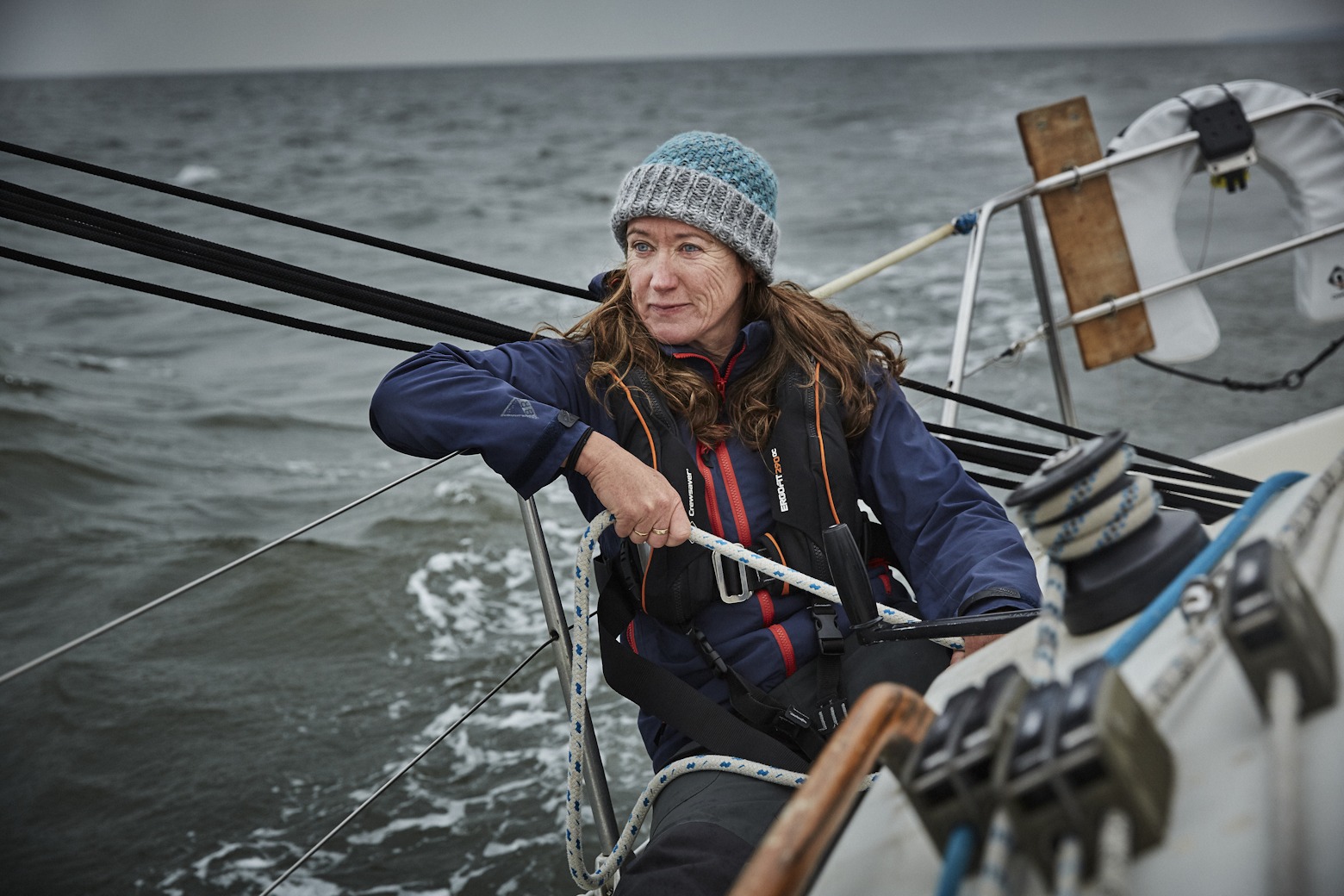 Studying at sea – Tracy's incredible OU journey across the ocean
As any OU student will tell you, studying takes place anywhere and everywhere. This was especially true for Tracy Thorpe, who spent most of her OU journey in the middle of oceans whilst working full-time as first mate and chef on private sailing yachts.
Tracy started her degree in Modern Languages (French and English) in 2011 and had sailed over 45,000 nautical miles by the time she completed her degree with first class honours in 2017.
"I've dreamed for years of studying for a degree, but I always thought that my job in the yachting industry would make it impossible," Tracy said. "I've worked on many essays in the middle of oceans and have studied and submitted work from 31 different countries."   
 
Studying anywhere and everywhere
Tracy's unconventional work life posed many unusual challenges along the way. She had to contend with multiple time zones, erratic WiFi connections and storms so rough that writing her TMAs (Tutor Marked Assignment) became impossible. Tracy says she occasionally had to contact her tutors from the middle of the ocean on the satellite phone to request a TMA extension.
Tracy said:
"I studied as much as I could when I was off watch and when in port I often had to 'beg, borrow and steal' other people's internet connection to ensure I had WiFi for key activities. I did my level 3 French oral exam in the back office of a shipyard in Nova Scotia, having begged the manager to let me use their WiFi as our boat was docked in the area. The signal kept dropping out during my exam but I persevered and ended up with a distinction! I flew back to the UK to sit my written exams and then flew straight back to go to sea."
 
'You can do it'
Tracy admits that at first, she worried distance learning would be isolating, especially since she was often in different time zones from most of her fellow students. Now she says: "How wrong could I be!"
"The camaraderie between OU students in the online groups is amazing. Whatever time of day or night I posted a question there was always someone there with an answer, with encouragement, or sometimes with just a shoulder to cry on! Studying with the OU is far from isolated, even in the middle of an ocean."
Despite the challenges Tracy faced, she describes achieving her degree as 'a dream come true'.
"My advice to anyone considering doing an OU course is it may be tough but it's worth it. Don't think if something unexpected happens that you can't carry on – the flexibility and portability of the OU means that you can do it, regardless of what life throws your way. There are times when it was really hard, but learning is such an incredible thing. If I can do it whilst sailing around the world then anyone can do it."
 
Celebrating 50 years of changing lives
Tracy features as part of a new photography collection taken by renowned British photographer Chris Floyd, to mark the OU's 50th Anniversary.
Travelling around the UK to capture the remarkable stories of the OU today, Floyd's 10 portraits have been released alongside a never seen before collection of images from the OU's archive. See the rest of the inspirational students and alumni featured in our Open University: '50 Years' collection.