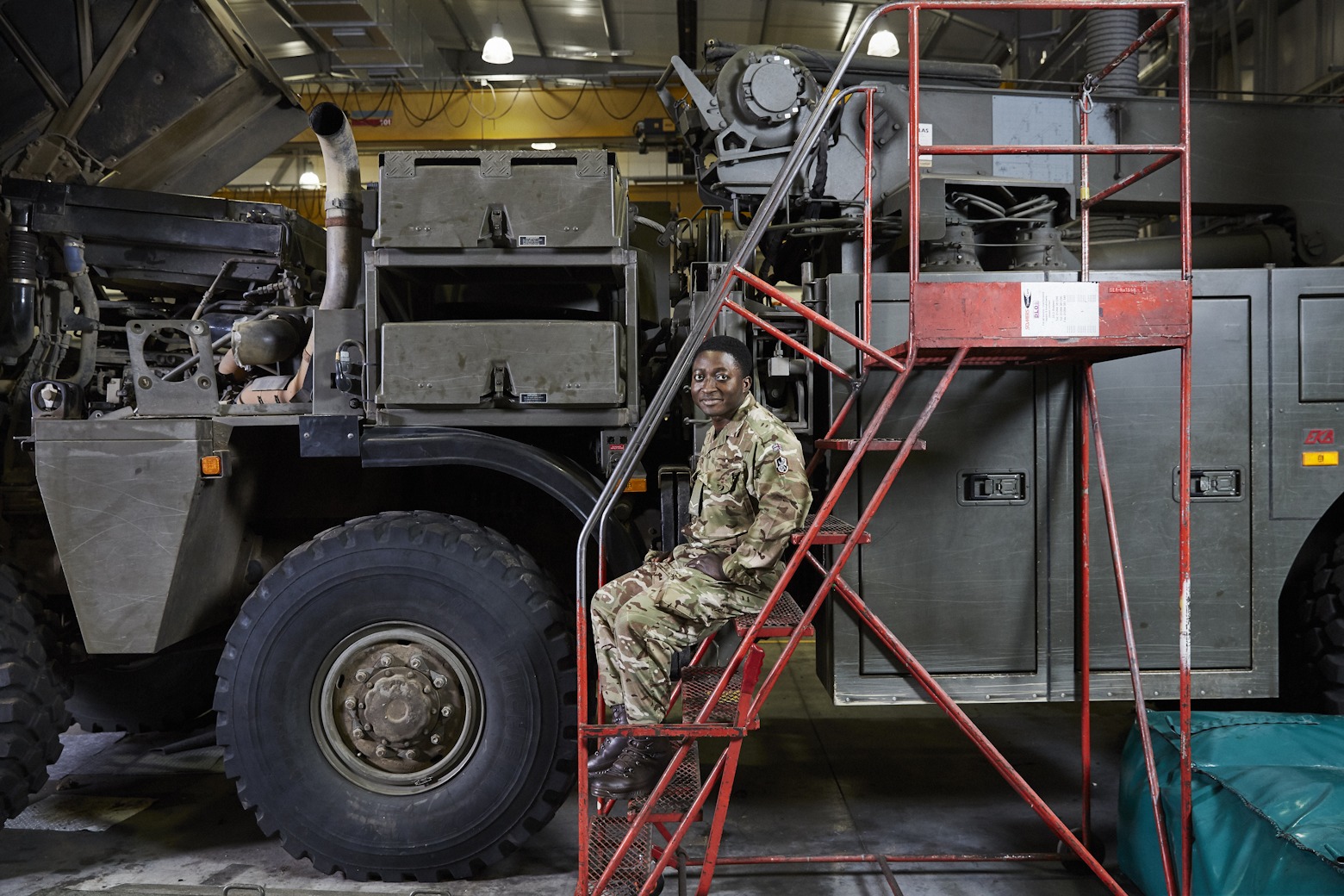 Studying while serving overseas
Felix Asare-Donkoh, 30, joined the armed forces soon after completing his A-levels in Cardiff, but realised he was still keen to continue his education.
Usually, this would mean leaving the army to study full-time, but by choosing to study with The Open University in Wales, Felix was able to study for his Bachelors in Engineering while continuing to serve. He is one of 2,000 active or former service personnel studying with the OU.
Felix said:
"Taking on a degree with the OU in Wales was the best decision I could have made – it gave me the best of worlds, allowing me to continue doing the job I love, while studying at the same time."
 
"My books followed me everywhere"
Despite finding himself in challenging working environments, Felix was determined to make the most of his studies, even water-proofing his textbooks to keep them safe from all the travel and unexpected postings. He said:
"My books have followed me to the Falkland Islands, Cyprus, and through many exercises within the UK. I had to waterproof my books somehow so I could revise in the evening while everyone else was resting."
 
"Give it 100% from the start"
Though Felix wanted to continue his education, he admits that juggling his career in the army and his studies wasn't always easy. He describes how things were especially difficult in the beginning. "I didn't know the structure very well," he said. "It wasn't until further down the line that I realised I had to pull my weight a little bit."
"At the beginning, I was more or less trying to tick boxes but as I went down the line I started putting the effort in and trying to make the time – at least an hour, two hours every night. My advice to anyone who is thinking about studying with The OU is don't do what I did! Give it 100% from the start!"
Since beginning his studies, Felix has gone on to become an aircraft technician, and is currently working towards becoming a sergeant in the military.
 
Celebrating 50 years of flexible learning
Felix features as part of a new photography collection taken by renowned British photographer Chris Floyd, to mark the OU's 50th Anniversary.
Travelling around the UK to capture the remarkable stories of the OU today, Floyd's 10 portraits have been released alongside a never seen before collection of images from the OU's archive. See the rest of the inspirational students and alumni featured in Open University: 50 Years collection.